To call the one-day leather workshop a "playing leather class", no other than I hope to satisfy pupils' want of non-pressure and self-accomplishment. All participants are required with neither any background nor any tools. As easy as attending to a romantic dinner date and going back home fully contented.
---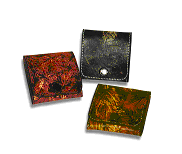 Batik Coin Purse
Size: H 8cm × W 8cm × D 2.5cm

Handsome yet very practical, this little leather purse suits all ages and is unisex. Through its making process to learn batik technique, surface and edge treatment, binding skill, hand stitching, installation of dot snap and etc. An easy and fun one-day course brings you into a diversified world of leather craft.
---

Tie-dyeing Glasses Case
Size: H 7cm × W 15.5cm × D 3.5cm
Beautiful and functional, this glasses case is even free from pressure.
Through the making process you learn the techniques of tie-dyeing, paper molding, binding and etc. A simple and interesting course increases
you more self-confidence and self-accomplishment.

---
Camellia Series
Size a: H 8.5cm × W8.5 cm × D3 cm
Size b: H7 cm × W7 cm × D2.5 cm
Size c: H 4cm × W4 cm × D2 cm
This colorful and gorgeous floral brooch can be versatile as bracelet, necklace, ring or others. Applied with roast technique to create the delicate curves and combining with binding skill. Vivid camellias make your fashion more colorful and make you feel attached to them.

---


Wine Carrier
Size: H 39cm × W 10cm × D 10cm
Appropriately either for private use or gift, this wine holder is also an ideal carrier to hang conveniently on car, scooter or bike. It can be also easily hung with your backpack while going hiking or picnic. This uncomplicated and amusing one-day course shows you the leather knowledge of entry-level dyeing, surface and edge treatment, braiding and various hand stitching.
---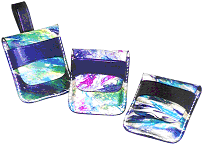 Paper-dyeing Coin Purse
Size: H 9cm × W 7cm × D 1.5cm

Handy and functional, this multi-purpose coin purse fits everyone. It also works as a mobile phone case, a penholder or others if by modifying its size. Through the making process to learn the techniques of rice-paper dyeing, surface and edge treatment, leather binding, hand stitching, wood molding and more. This easy and entertaining one-day course enriches your acquaintance with leather craft.