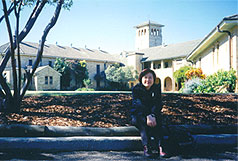 Can hardly squirm my desire of leaning and the happiness of impart skills, again I took my luggage and with determined mind I step on the plane and left for Brisbane. Sometimes a little disturbed of flying came to me but it was overcome by the excitement.
When I stand in the Hall of Banyo Seminar again, my heart filled with gratefulness. In 1988 with thirst of learning I ran into Australia continent. I obtained abundant friendships in two years at this Oceania region. When friends met second times, we don't have the strange feeling when we first met, and now we are more comfortable of chatting. Time past in this too busy to make proper response to this tighten and substantial programs and events. Leathercraftors from different parts of the world gathered together because of our love for leathercraft, through mutual learning and culture exchange, it planted the seeds for our friendship in the future. Lack of fluent language I can't express more deeply. At this Dimensions in Leather 2000 though I can't communicate in their language fluently, I had a strong feeling that our sincerity can overcome the language barrier. Sometimes through a piece of work, an action, a trace of eye contact, without saying too much you can understand. That's the reason I would like to encourage the leathercraftors in Taiwan, don't let the language barrier to trammel your path of learning. The whole world is a limitless stage waiting for you to elaborate your capacity.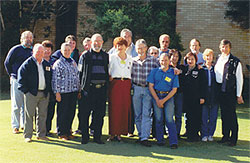 At 6:00 early in the morning, the sky was still dark, I was charged with morning call, so I had to leave my warm bed, walk to the hall and knock on everyone's door. The South Hemisphere is in cold winter. The Sun is so warm and the weather is so pleasant in the day times, but it changed so rapidly in the morning and night time, and also the dryness that is a great test to us who came from the damp weather area. But I enjoyed the afternoon sunlight came into my classroom and the room was full of mild atmosphere. And it shone on each seriously learning face. It was so beautiful and I just can't help myself but bring my camera to take some photos for everybody. Thank God, I am very lucky and always meet intelligent students, with their intelligence it cover my insufficient language, so that I can teach my class smoothly and be done with it. I am also very grateful to the sponsor committee, with their trust and courage, so that I got the opportunity to be able to stand in front of this international stage and be a tutor. There's many top masters and seniors around me, such as: Peter Main, Paul Power, Tony Laier, Robb Barr, Rene Berends, Helen Huxley, Mike Dimoline, Loraine Tinniswood, Fay Holden, Pam Luff, Claire Nelson, Jack Worthington, Yukiko MizoguchiíK I felt so insignificantly lowly amongst them. Since my height can never grow higher, so I can only work harder and help myself to be a more professional in this field. My gratitude to those who attended my courses, their seriously leaning attitude is the motivation that helps me to continue to teach. Also my thanks to the sponsor committee for their devotion and great efforts (Chairman: Mr. Bob Woodbury, Vice Chairman: Mr. Pat Nixon, Secretary: Mr. Paul Power, Treasurer & Workshop Coordinator: Ms. Cherryl McIntyre). It ensured me that I didn't chose the wrong way. And to those tutors, their teaching skills are so profound, their production skills are so perfect. The harmonious atmosphere between the tutors and their cherish for each other really touched my heart. I deeply feel the movement of leathercraft arts is extending far. And I hope the leathercraftors in Taiwan can get together and remove their differences so that we can move the window of leathercraft art wild open. I hope I can be one of the movers.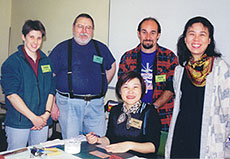 There are so many events and courses in six days, the time was so tighten. If you wish to chat with someone, the only way to do so is to sacrifice your sleeping hours. It's close to midnight, but in the social corner there's still people talking. Robb was still teaching dyeing course in his class, he was not able to attend the birthday party that we held for Rene. To a joke teller like him is a great lost. Mrs. Judy Denham, the national director & editor of Publication of the Association of New Zealand kept saying she need to go to bed and rest, but still sitting with us. Guess that she doesn't want to miss this special rare night, just like me. Yeah, miss tonight, we don't know when or where these same people can meet each other. No one will know. We can only grasp this opportunity and share our friendships with each other.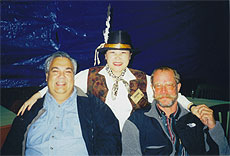 I try to use my searching eyes to learn more technical knowledge in a fast pace. I am afraid if I missed some good works or new concepts. I can't stop my heart desires that I want to experience different learning in foreign countries. The progress of the new technologies has shortened the distance of countries, but friendships continue to grow when people meet more times. I often feel that I am looking for my family members in my previous life through these leathercraft arts activities. Though this life we all live in different parts of the world, but there are some mysterious forces that draw us to the same dream.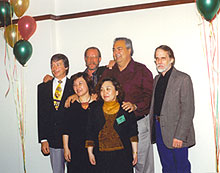 The venue was full of applause and acclaim, hugs and flash lamp was continuing. Wow, tonight the sky of Brisbane looks very like in Taiwan. I am so proud and happy for those who came with me that won so many prizes. That helps to push me forward unconsciously. But I am alert to remind myself that lucky will finish one day, so I need to try harder next time. The early morning flight of tomorrow urge me to say good-bye and thank everyone that took care of us. Tears blur my eyes while shaking hands and hogging each other. The significant of this trip is not just the international teaching ranks, but also through the understanding and care for each other's art works, and the interlinked of each other's concepts it overcome the barrier of different languages and countries. It helps and makes my feet firm in promoting the Leather Arts. My heart is full of enthusiastic and confidence, and this will accompany to set out again.