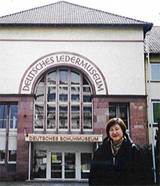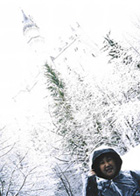 I was dragging my over-weighted luggage back home after a 17-day intensive travel in Central Europe, with an unforgettable sweet memory in my mind. What a dream it was! Nineteen years ago, in 1971 the second year since I felt in love with the art of leathercrafts, I read an article about Deutsches Ledermuseum from a Japanese magazine. Since then visiting the museum has become my dream. My life went on and made many turns, finally I embraced the dream. The very moment that Deutsches Ledermuseum came into my sight, I was unspeakable though there were thousands words in mind. It was my moment as a faithful believer arriving in Mecca. My eyes were in mist several times. Unfortunately I could only blame my time and my eyesight were not extensive enough to discover all the museum work. Lucky we had Dr.Rosita Nenno, an outstanding European historian, yet a tall, red-hair gorgeous German lady. During the short visit, she patiently guided us with the sympathy on our language barrier, and gave us the best interpretation. Later I realized that she rushed in with a short notice invitation from Mr. Rene Berends, the president of Leder-Gilde e.V.. I felt very sorry to hear that she couldn't make her lunch while we were in tea break, yet felt very touched.

The Deutsches Ledermuseum was founded in March 13th of 1917, located in Offenbach Frankfurt Germany. The site covers an area of 3,600 square meters. Until 1986 the museum has collected 25,000 pieces of leatherwork that earns the reputation as the biggest leather museum in the world. They were very considerate and generous about our visiting from abroad, Rosita was especially assigned to extend the museum hours for us to view the exhibits unhurriedly. In fact the extraordinary collections may need more than three day-and-night to go through. My suggestion is it deserves visitors to prepare as much time as you can.
Profound civilization mingled with high technology without a mixing trace. Efficiency, simplicity and promptitude composed the spirit of Germany with a fragrance of sensibility. These characteristics draw up Munich an artistic city fulfilled with sensation. And the supports from the Leder-Gilde e.V. president
Rene and other friends made Munich even more impressive and inspiring to us. The day we were riding the wagon to Neuschwanstein, white snow was falling from the sky without a hint. It was accumulating fast like big white cotton balls. We couldn't say any words but sighing, "God!" The smelly horse worked very hard all the way up with the heavy snow, at the moment we were in the white world, exactly a picture like a Christmas card. The snow undoubtedly was a grace from heaven to welcome us, the travelers from semitropical. We were trembling and walking after we got off the wagon, but with full courage for marching towards the destiny. Because we knew it is the only way we can find the footprints of King Ludwig II infatuated with Wagner.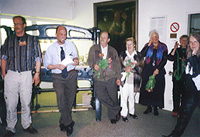 Though we had regrets not entering Munich via Romantische Strassa, the God made up a better arrangement by offering us a romantic leader Rene, driving us from Munich to Waalwijk Holland for LEDER 2000. The VW T4 was stuffed with luggage and eight tubby ladies. The festivity inside of the car should be imaginable without any description here. We had a fascinating Italian meal on the way and visited the Worms Church. The church gestures differently from the splendid of Koln Dom. The color of gorgeous glazing glass blending the beauty of classic and modern gracefully. Peace and stillness filled in mind while I was standing inside. Driving speedily in the superb highway for 10 hours, Rene didn't want to miss a single opportunity to introduce any attractions along our trip. We learned a lot about the German culture and his amazing traveling legends around the world. At the moment I almost convinced myself that he could've become the best guide in a travel business. We planned to organize a group tour in the future, departing from Munich and driving through all countries. The sky of Waalwijk was still bright at the moment we arrived was nine o'clock in evening. About 80 members from 19 countries and numerous visitors were gradually checking into the designated hotels, with their enthusiastic anticipation for the grant opening.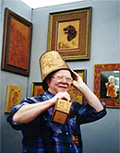 Presenting myself in the society of European leatherworkers evaluated my 20-year leathercrafts life more meaningful. The whole morning I was setting up the display in our booth for the absent members, trying to amplify it perfectly with a limited resource. The leatherwork from Taiwan immediately attracted visitors showing their high interests, while during setting up. The work speaks the value itself, and I am proud of where they are from. Within the hundreds pieces of leatherwork, "two fighting heroes" by Ms. Sabina Tung and my work "Era of Aquarius" were selected for the highlights of "Leather 2000". I feel very honored as a member from Taiwan. During the exhibits, workshops, lectures, demonstrations, banquets and etc. in the three-day conference, everybody held each minute tightly by uniting old friends and meeting new friends. We never know when the next encounter will be after this meeting. Therefore we cherished this opportunity carefully through exchanging techniques, brainstorming, appreciating work, taking photos, signing autograph and more. The conference created a small world without barriers of language, culture or race, but with a smile easily bridging people from worldwide. At the very moment, we were all in "won pi gia tsu"(sound of "Family of Leather Lovers" in Chinese that pronounces the same as "Naughty Family")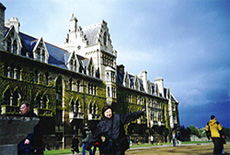 Mrs. Gerda van der Stroom-de Jong, a founding member of Leder-Gilde e.V., she once more takes the responsibility of "LEDER 2000" after "LEDER 95". This energetic petite Dutch lady executed the heavy duty of the conference, always with vivacious laughter. The LEDER 2000 wouldn't be so successful without Gerda. I have read the sweet and bitter behind the curtain from people hosting such an event, since I have been traveling back and forth within the international leathercrafts activities. Therefore I appreciate more each time.
I often think about when we can enrich the leathercrafts art in Taiwan,
where foreigners have recognized her a rich country. For who may care leathercrafts of Taiwan, who maybe miss the past opportunities, but please grasp the future ones.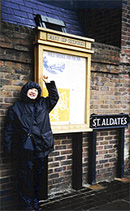 I would not understand how proud the United Kingdom is until the moment I arrive in London. Indeed, I am fond of London, except her cloudy weather and high living expense. Magnificent architecture and origins of epics and literature caught my eyesight all over. No wonder the British honor to live in such an atmosphere. The sharp mid-spring wind caressed my face without consolation, but didn't stop me from strolling in the stone pavement of Cambridge and Oxford. It is such a joy that I was trying to collate my feelings for the moment to the descriptions about these places in book. Time travel between spaces, the air of nowadays doesn't smell the same as before, still you couldn't deny Cambridge and Oxford the best cradles for masters, carrying different essences as biggest university towns in both. I felt myself affected by the elegant essences though just lightly passing by.
I have immense appreciation for the helps from all the international senior leatherworkers, whom smoothen and brighten my journey to the art of leathercrafts. More thankfulness from me might not illustrate more, but I still want to express from the deep of my heart. I wish people could benefit from me, whom have been greatly benefited from others, and that only makes my tiny reward. I believe there is nothing else but hardworking can bring you closer to the dreams.