Despite the severeness of SARS allover the half globe and the critical Iraq war, we landed in Munich after 17 hour's long flight. On our way to luggage, through the glass wall we saw our good friend Rene Berends the founder of Leather Art Forum who was already waiting there. From there we "Taiwanese group" started a fantastic 15-day trip in Europe. This time we must travel with minds and eyes, because our interpreter Shun could only showed up at important moments for fear of her one-year old daughter Selina without mommy too long. Passing through the language complex West Europe we revisited many places, yet so much new things have been discovered by the space-time change. Travels are opportunities; I like to encounter purposely the local people in public transport during traffic hours when they're bounding between offices and homes. That is a must assignment wherever I travel. Small alleys, various markets and museums are all for my sightseeing, even just hanging around in a plaza for people watching to enjoy watching their fashion and body language. As a traveler I find it a more knowing way to learn foreign culture and I often mock myself I'm doing a field research.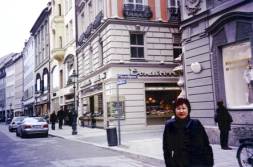 It was a singular experience, different from the bright atmosphere from the 2000 annual conference of Leder-Gilde E.V. in Holland, the meeting in Munich seemed quite heavy. The association had been through the difficulty and suffering from internal conflict, and had realized that unity is no other than power after some quiet deliberation. However each has specialized skills and possesses of different ideas, it eventually ends up in separation. The meeting was just during the exhibit "Reflections" by Leather Art Forum; unfortunately some members didn't even step into the exhibition hall since they came from far. I must doubt that if they have lost their enthusiasm for leather art. Simplicity is beauty. Put aside your self-hold, fly your spirit high and travel your mind far, then the originality of fine work can be awoken. In the exhibit "Reflection" I have heard the deep voices from the artists' works, which are roaming willfully between craft and art of leather. I adore those who respect other's ability as their own and who together build up a dreamland "Leather Art Forum", where merely needs affection, trust, peace and hope.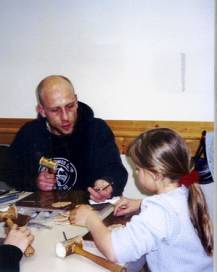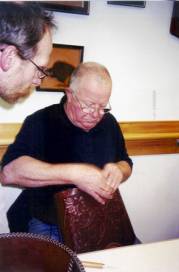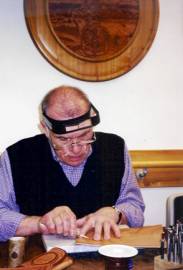 The maturity of urban development brings mainstream arts and again new arts come from them. This constant interchanging growth can contribute the future mankind with a great cultural property. Inspired by the architecture in Munich and the humanistic significance behind, I have frighteningly learned that we could only leave our descendants emptiness if we are not consciously preserve the past and meanwhile sensibly construct the present. It will not only have the lack of tangible constructions, but also poorness of culture and arts. We will just exist in a material stuffed shell, but indeed an empty life.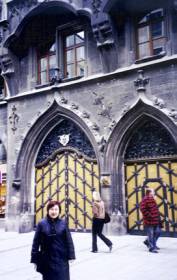 The best tour guide and escort must belong to Rene. To reach the uncompleted dream in 2000, this time we could drive along the Romantic Road. The scenery along the road seemed unrealistic like a movie. But while opening the car door and being among it, everything became reachable. Driving from South Germany towards northwest to Holland, the journey started from dry branches, new sprouts, green leaves, interwoven fields of white apple flowers and yellow rape flowers, until the splendid tulip fields. The roads expended eternally, we were heading spring in the time tunnel.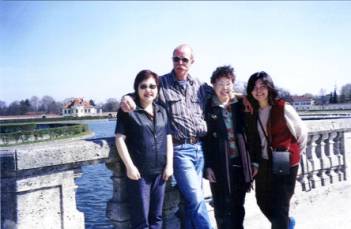 For revisiting the leather museum with more time, we decided to stay over night outside of Frankfurt. Due to our last experience, this time we were more disciplined to go through the exhibits. Above all, the brilliant guide from Rene indulged us with following the footprints of leather history. Lots of gratitude to the curator Dr. Rosita Nenno for her warm hospitality. Time never tracked on her face, her sunny smile was as usual. Though the reunion was short, it was very delighted.
 After 2 running days on road, at night we arrived the home of Gerda van der-Stroom – de Jong, the founder of Leather & Craft in the Netherlands. Here is much more spacious and charming, if you compare to typical Dutch houses. Besides front and back yards, they even have a garage for Harleys. Gerda was already waiting to hear our surprised screaming and to wipe off our admiring saliva. I knew from before that both of them are Harley fans, but I didn't that they are entirely into it. It seems I am too green when I realized there are even different types according to seasons and distances. Gerard has the same occupation as my husband and Gerda has the same birthday as my son; these coincidences can only happen by the enthusiasm about leather, which Gerda and I both have in common.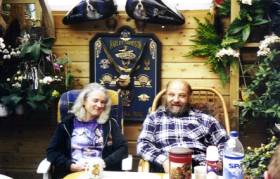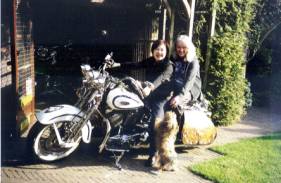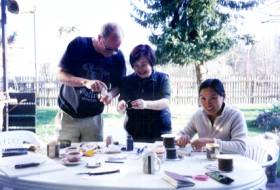 If you imagine Rene's workshop like a delicate Japanese cuisine, then Geert de Bruijn's "Uniting with Leather" is a diverse Chinese cooking. We sat freely either at Rene's studio or in the garden, with the old western pop from radio, with the Hello from their dog Rudi at times, and especially the irresistible cooking from Doris, that unforgettable aroma remaining among your teeth. Probably it was the atmosphere, European workshops always free and relax me. Grown up in a server education system and now mainly concentrating myself in precise hand sewing, which sometimes make my brain square. This time Geert's inspiring teaching suddenly released my mind like a bird out of cage flying into the sky. It was a unique experience, a free-minded exercise, and will stimulate new elements in my coming work.









 This year is the 150th birthday of Van Gogh; the Museum of Van Gogh in Amsterdam is celebrating with lots of programs. The special exhibit "Vincent's choice" is held during our stay; though so many places we wanted to visit, this very rare opportunity was definitely the first priority. Van Gogh only had a short stay in life, but he sparkled the most aesthetic light in art history. His art books are easily to find in the bookshops, nevertheless, you could not get closer to his loneliness and melancholy hidden underneath the bright colors in his paintings, without eyewitness the originals. Paintings the only means he could express his mercy on misery of mankind, could calm his surge down and could release himself from the social binding. He had tremendous torments in his life, but he was all the time loyal to his faith; that sentiment has been past on by his paintings as an immortal.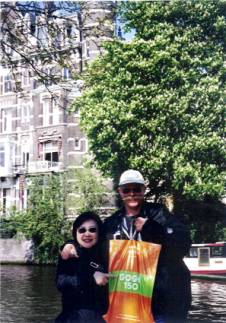 With the right companions, going away is so enjoyable. Only a few, even with a big age range of 30 years, maybe we have genetic craziness and comicalness in common; it was hard for us to stop laughing. Shun's humor and Isis' comedy, plus quick Kelly and her cool joker "mama", we had to laugh so much. A great gratitude to two couples, Rene and Doris from Germany, Gerda and Gerard from Holland, without their family-like cares we could not travel so easily in foreign lands. I appreciate deeply for such luxury, which any traveler would dream about it. Friendship doesn't depend on the length of time; cherish this fortune, interflow our inside feelings, preserve each moment, and later slowly taste from time to time that is the most wonderful delicacy.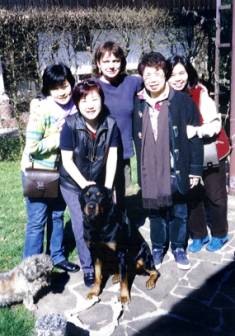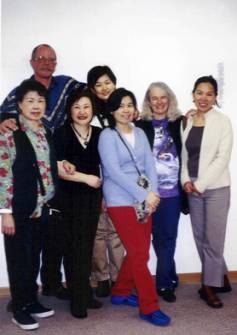 The purpose of this trip is for the exhibit "Reflections" by Leather Art Forum and I am supposed to write something relevant. But after reading the article "Reflections: The first traveling group exhibition of leather art" by Rene, with my full respect, I find that there is no need to repeat and also I can never reach his fullness. Here I am just narrating my feelings as a traveler and an exhibiter.