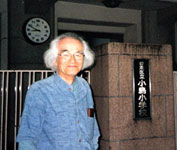 On the 2nd of May after the meeting held in Taiwan Crafts Association, it was already dark on my way home. My mind was busy concerning the very delayed dinner while my body was rushing to home. At the door, my husband urged me to listen to a message first, a message in Japanese. That was a call from my good friend Mrs. Ichie Y. France; there the news of Mr. Toshikazu Yazawa掇 passing away brought to me. I could barely believe my ears and rapidly turned on my computer to check mails. Once again it was confirmed on the email. In front of my computer I could do nothing but let my tears keep dropping, sitting there long speechlessly.

 For whole week my body was drowned in endless tasks, and my soul was tied up in each scene where I had been with Mr. Toshikazu Yazawa, from Japan to Taiwan back and forth. His concern and care for me and his other pupils in Taiwan had been as immense as an ocean, and now we could no longer express our appreciations in person. What a sorrow of not allowing us to do one more thing for him.
 Mr. Toshikazu Yazawa had been a train operator in his early years; at his ripe age of 50 he entered the YMCA Leather Crafts Institute in Tokyo. The deeply latent artistic factors in his tall slim body were suddenly awakened and exploded; thereafter he started a splendid page in his life history. As an instructor of KYOSHIN ELLE Leather Crafts Institute, thirty years went by just as each single day. During this period he had won many big prizes and served as the director of Japanese Leather Crafts Association. Refer to Mr. Toshikazu Yazawa,besides his overwhelming superior hand sewing technique, he was also highly skilled in plant-dyeing, making batik with plant-dyeing, and associated many other skills such as inlay, wood working, together with hand sewing technique. This is probably why his works always give people an impression of simple yet rich in meanings and light yet full of tastes.
 The insistence of including the elaboration of hand sewing into daily use objects, sober and free living attitude, high standard teaching principle, the fabrication spirit of earnest and exquisiteness and the achievement of purity and mastery, till now no one can go beyond him. Born in 1925, during the thirty years of engagement with leather crafts, he had consistently devoted himself on the developments of new approaches and the diverse applications of tools, as well as how to provide utmost simple forms but with a thought of optimum functions. These allowed each work of his to illustrate quality and touch of the pure hand-made. Less is more, the typical charisma of a Capricorn was brought into full play thoroughly on this Japanese master.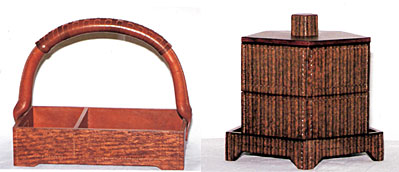 A master of generation vanished, not only Japan sorrowfully lost their notational treasure, but also a huge loss for the whole leather crafts world. With a style of dignity and low-key as Mr. Toshikazu Yazawa always was, his living philosophy of simplicity and tranquility remains that no public ceremony will be held. We as his disciples, from any corners in the world, will simply pray for him with our most reverent appreciations. From now on we should make more attempts from where we stand to carry on the spirit of Mr. Toshikazu Yazawa. He would be delighted to see that we are fulfilling his last wish by doing our best to promote leather crafts. If we do treasure him, let us continue striving towards it. Somehow I feel he is looking at us with his usual smile in the Sky.